CACAO CEREMONY
Take your cocoa ceremony to a new level with our pure ceremonial cocoa from Kokoa Kamili in Tanzania.
Our ceremonial chocolate is created to enhance your meditations and chocolate yoga moments with a rich and creamy chocolate experience.
Buy ceremonial cocoa and create a harmonious atmosphere during your ritual moments. Each cup is a pleasure that also contributes to a sustainable cocoa trade and preserves local craft production in Österlen.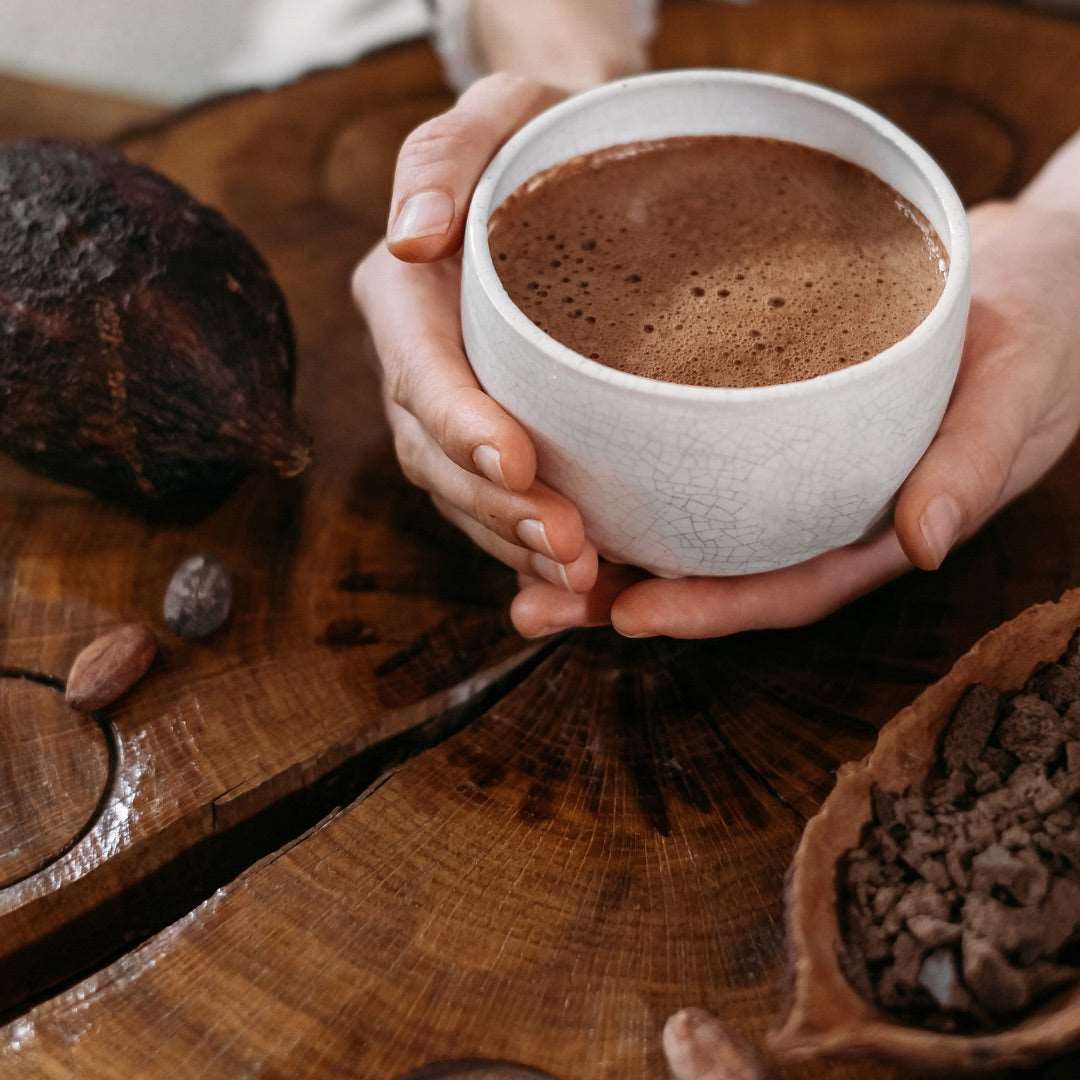 MORE CHOCOLATE PRODUCTS FOR CACAO CEREMONIES
What is a cacao ceremony?
Cocoa ceremony is a ritual where participants prepare and drink a hot chocolate drink with intention, presence and respect. It is about creating a meditative and conscious atmosphere where you can go into a deeper inner journey. Ceremonial cacao has become popular as a form of self-discovery practice, where one can explore one's inner landscape, open the heart and strengthen the connection with oneself, nature and higher consciousness
Ceremonial Cocoa is a special type of chocolate drink, made from sustainably grown, high quality cocoa. It differs from ordinary consumer cocoa through its traceability, quality and sustainable cultivation without pesticides. The cacao is carefully selected for its rich flavor and grown with respect for nature and the local ecosystem, making it a responsible and sustainable choice.
SUSTAINABLY GROWN
The cocoa has been grown sustainably and ethically
TRANSPARENCY
The cocoa can be traced from the grower to the chocolate
SINGLE ORIGIN
All cocoa comes from one origin
Worried about heavy metals in chocolate?
Our chocolate is made from cocoa beans that we buy directly from producers we know or have personally visited. This allows us to provide complete transparency throughout the entire process. We can tell you where the cocoa comes from, how it has been grown and treated, and every detail from the cocoa fruit to the finished chocolate product. This level of transparency is rare in the industry, where many chocolate brands cannot or do not want to explain the origin of their cocoa.

It is common for chocolate brands to purchase a finished chocolate made by someone else, so information about the cocoa used is often scarce. If you ask suppliers about the origin of their chocolate, where the cocoa comes from, who grew it and how it was fermented and dried, you may find that the answers are unclear despite certifications and green labels.

We understand that many people are concerned about heavy metals in cocoa. That's why we use cocoa from the producer Kokoa Kamili in Tanzania for our ceremonial chocolate. All of their cocoa is continuously tested, and they have no problems with heavy metals on their farms.

The topic of heavy metals, particularly cadmium, is significant and frequently discussed. If you are interested in learning more about it, we suggest a program that our industry colleague, Greg D'Alesandre from Dandelion Chocolate, participated in. He explored this fascinating question in-depth.: youtube.com/watch?v=W2YU101IM1s