Chocolate offer - Pralines with Christmas flavors and orange in dark chocolate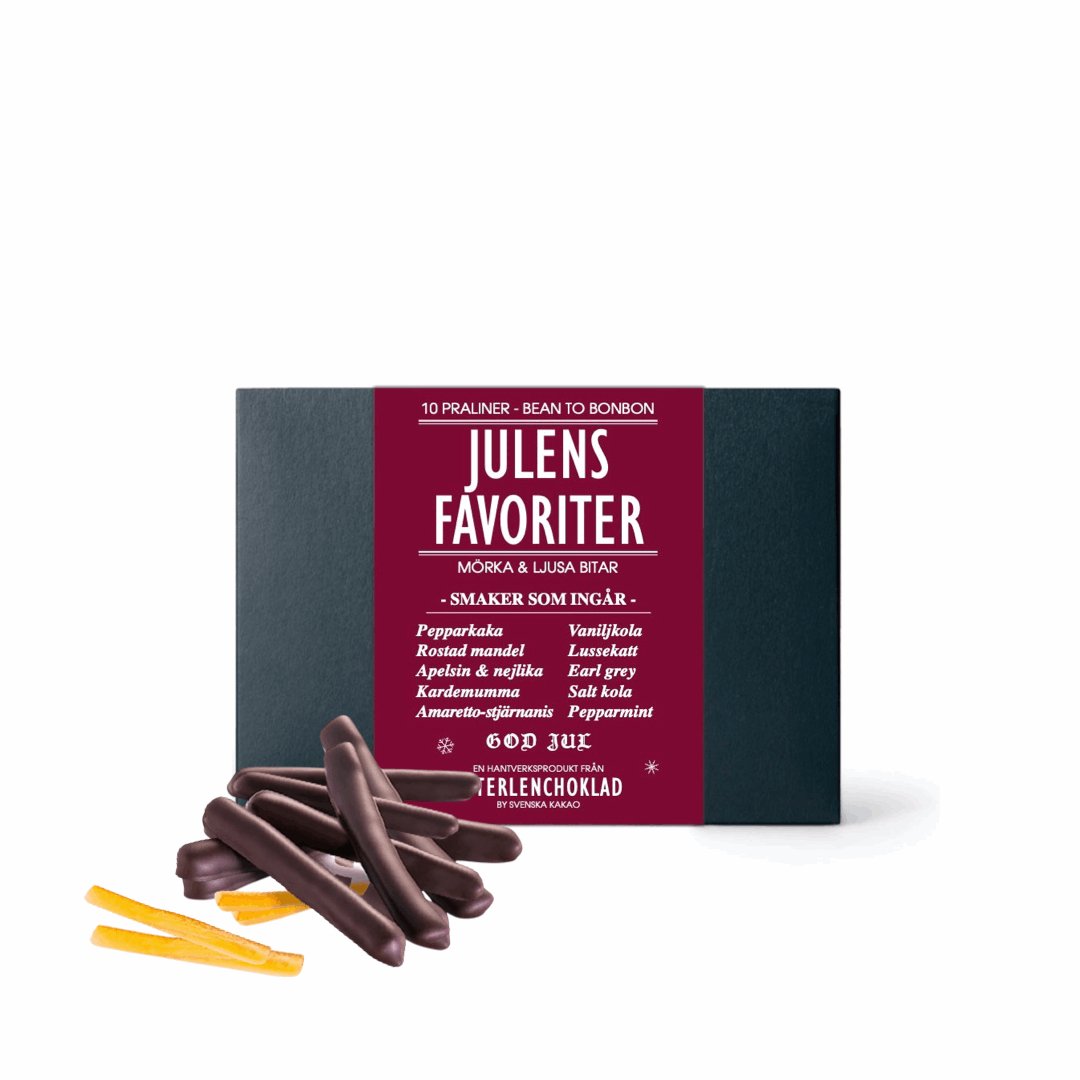 GIFT WRAPPING
Send your order as a gift. Don't forget to fill in your greeting message in the shopping cart.
Hot chocolate on cocoa from the Dominican Republic 70%
129 kr
The chocolate factory's own signature blend. Our popular drinking chocolate made from grated 70% single origin chocolate from the Dominican Republic mixed with the perfect amount of organic cane sugar from Brazilian Native. Mix with any warm milk and enjoy. Click here for our popular recipe for luxury hot chocolate Contains: cocoa beans, sugar Weight: 250 grams Nutritional value per 100 g Energy..2148 kJ/ 514 kcal, Fat..........................29.3 g, of which saturated fat.....17 .8 g Carbohydrate................51.5g, of which sugars..47 g Protein......................5.9 g, Salt...................... .........0 g
Italian licorice in milk chocolate
59 kr
A dark milk chocolate (55%) to which we have added sweet-salty Italian raw licorice from Calabria. A chocolate with creamy notes of honey and nuts where the licorice emerges strongly towards the end. Weight: 50 grams The beans in this chocolate come from the producer Öko Caribe in the Duarte region of ​​the Dominican Republic. Region/Manufacturer: Dominican Republic, Öko Caribe Bean Type: Criollo, Trinitarian & Nacional Harvest year: 2022 Ingredients: Cocoa beans, sugar, milk powder, cocoa butter, licorice
Gift box Factory's favorites - 10 bonbons
169 kr
Factory favorites in a gift box. Dark and milk chocolate craft bonbons. In the box: 1 x Apple Cake - Local apples with a pinch of cinnamon and vanilla 1 x NEW Cheesecake - Creamy cream cheese with freshly squeezed lemon 1 x Strawberry cake - Strawberries from Eriksgården 1 x Raspberries - Tart raspberries from Eriksgården 1 x Licorice - Italian raw licorice 1 x Three types of chili - Arbol, Pasillo and Chipotle from Mexico 1 x Sea salt - French fleur de sel 1 x Sea buckthorn - Sour sweet sea buckthorn from Fruemöllan 1 x Rosemary - Aromatic rosemary from Österlenkryddor 1 x Coconut/Ginger - Freshly grated ginger and flakes of coconut Weight: 100 grams
Candied orange peels in dark chocolate
59 kr
A classic. Candied orange peels enrobed in delicious dark chocolate. The slightly bittersweet combined with a creamy dark chocolate. This unbeatable combination contains only orange, sugar and chocolate. One package contains approximately 50 grams.
Unique and luxurious chocolate offers
Looking for the perfect way to surprise someone with something extra special? Our chocolate offers are the ultimate choice! At our chocolate factory in Österlen, we create genuine artisanal chocolate from scratch, with carefully selected cocoa beans from different origins. Whether it's a birthday, Mother's Day, Valentine's Day or any occasion, we've got what you need to make someone truly happy.
Tips for good chocolate deals:
1. Chocolate courier with home delivery
Surprise someone with a delicious piece of chocolate, perfect to add a golden edge to the day. Our range of chocolate offers offer something for all tastes, from
milk chocolate
to dark chocolate and even vegan chocolate for those with special dietary preferences. And we deliver to the recipient's home.
2. Pralines
Our award-winning
chocolates
are created with love and care. Give someone a luxurious experience with our exclusive praline boxes. Our chocolate pralines are a true craft, perfect as a gift for someone you care about.
3. Chocolate tasting kit
For the true chocolate lover, we offer
tasting kits
that take you on a taste journey through different cocoa varieties and flavor notes.
4. Gift boxes
Our beautifully wrapped
gift boxes
are perfect for surprising someone special. They contain a selection of our best chocolate products.
5. Chocolategram
Send a greeting with our chocolategrams – a
digital or physical gift card
where the recipient can choose their favourites.
6. Gift wrapping
Don't have time to wrap and send packages yourself? Let us do it for you. Order our
gift wrapping
and we will arrange for your order to be sent nicely wrapped as a gift with a handwritten greeting card with your personal message. Receipts are removed and the package will feel like a gift directly from you to the recipient.
Order online today:
And if you want to make your gift even more memorable, you can also include flowers in your order. We do not offer flower delivery services but it is usually popular to receive and send flowers and chocolates together, perfect for celebrating special occasions such as birthdays and anniversaries.
So whether it's Mother's Day, Valentine's Day or any other occasion, let us help you spread joy with our unique and exclusive chocolate offers. Order your chocolate products online and surprise someone special with a taste experience they won't soon forget. We also offer fast home delivery for your convenience. Place your order today and let us send chocolate love to someone you care about.